clients
LAWYER
OHADA - EMCCA - Women's Rights
With her involvement in Africa, Claude Dumont Beghi applies OHADA law and participates in CEMAC.
clients
Women's rights, OHADA - 34 years of experience in Africa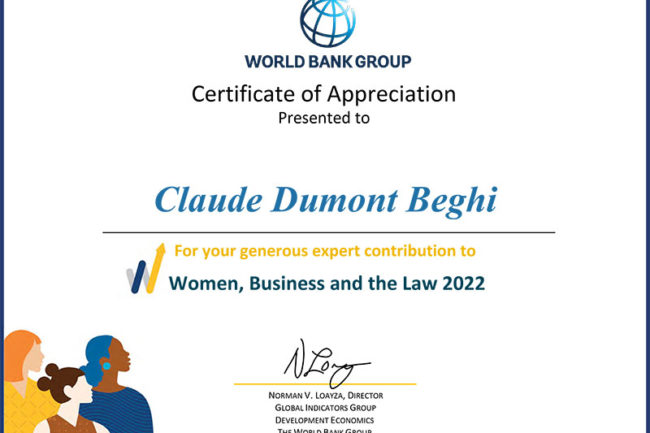 Since 1986, Claude Dumont Beghi started her firm that has become renowned on the African Continent.
From the defense of particular interests to global issues such as the defense of women's rights, Claude Dumont Beghi has distinguished herself through her ethical and helpful commitment.
The Sylvia Bongo Ondimba Foundation for the Family has called upon Claude Dumont Beghi to use her skills to the cause of women as part of a collaborative processes and vast reform project for women's rights in Gabon.
During the development of the law in favor of women, Claude Dumont Beghi participated in collaboration with the World Bank and the law firm Norton Rose Fulbright in identifying the obstacles linked to equality between men and women in order to propose a legislative and regulatory framework in line with the singularities of Gabonese society in its concern to combat violence against women.
Claude Dumont Beghi applies the law of OHADA (organization for the harmonization of business law in Africa) as part of her involvement in Africa.
She participates in the Economic and Monetary Community of Central Africa (EMCCA).
Claude Dumont Beghi specializes in inheritance and family law, is recognized as a specialist on both custom and positive law in this field in view of her numerous trips to Gabon.
As such, she is regularly called upon to plead before all Gabonese jurisdictions: Court of First Instance, Court of Appeal and the Court of Cassation.